A Home Pool Safety Checklist That's Fun For The Whole Family
Before the advent of the dishwasher families didn't eat and run. They'd stick around to wash and dry and put away the dishes.
It brought the family a little closer together and stopped the kitchen from seeming like a restaurant.
This all-hands-on-deck approach is also the best way of dealing with pool safety.
While there's an array of pool safety gadgets on the market, such as alarms and motion detectors, the only foolproof method of protecting your children is adult supervision.
"40 children under the age of 5 have drowned over the last decade in WA. While all of these drowning deaths are preventable, it is the 50% that occur in home swimming pools where your immediate action can make a difference. Home pool fencing and effective supervision can reduce these tragic drowning deaths to zero." – National Drowning Report – Royal Life Saving Australia
Home Pool Safety Checklist 
The following 5 home pool safety checklist items will help you build this wonderful outdoor family space.
Check that the pool gate is closed
Make sure the pool fence is in good order
Clear the area of climbable objects so it is safe when you are not around
Ensure pool tools are stored securely and out of view
Ensure your resuscitation and first aid skills are up to date
Make Pool Time 100% Safe & Fun
If you can't rely on a gadget to look after the little ones why not make pool safety the perfect reason for spending quality time with your children? It would do you as much good as the kids.
During the summer months, we recommend to schedule an hour in every day (or whatever time you can afford) to get into your bathers and make pool time family time.
It allows you to connect with the kids without the distraction of televisions and computers, it can give you as much exercise as your children and you can help them out with their swimming (another great bonding opportunity).
Getting into a pool or dangling your feet in the water is also a great way to spend time with your children without having to entertain them. You can sit back and relax while they amuse themselves.
And if you want to get a little more involved, play a pool game with them! Challenge your kids to a noodle race, toss some coins into the bottom of the pool and yell "finders keepers", play a game of water volleyball. Read our pool game article for more inspiration.
When you've had enough of the water, sit down together for morning tea beside the pool. You've gone to the expense of building the best family space imaginable, so use it as you would a lounge or a kitchen.
Top Pool Safety Sites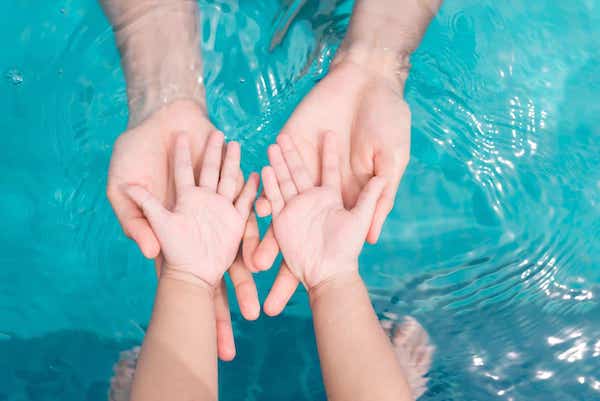 Of course, if you're going to spend more time in the pool with the kids you're going to need to save time elsewhere.
This is where Kreepy Krauly comes in.
With a Kreepy Krauly pool cleaner on the job – you just set and forget – you'll have extra hours in the day for quality family time as well as being reassured your pool is crystal clear and completely safe.