Top 5 attractive, yet low maintenance plants to plant around your pool
If you've recently installed a pool, or about to have one installed, you're probably thinking about what plants will bring your new paradise to life.
Australia's sun can be harsh and if you're not a green thumb, choosing plants which require a lot of maintenance and water isn't a good idea.
Being able to leave your garden without fear of it dying; dropping lots of leaves in your pool; or costing a bucket load of money in water use is a smart move and one that will pay off in the long run. 
With this in mind, we've compiled our top 5 attractive, yet low maintenance plants to plant around your pool.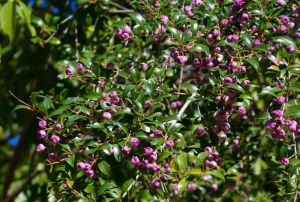 The Lilly Pilly is a fast growing Australian evergreen plant which when planted closely, can offer excellent privacy. 
Benefits: Most Lilly Pilly varieties have non-invasive roots and provide excellent privacy when planted an appropriate distance apart. Leaves are attractive and given they are lightweight, will typically be drawn straight to your pool's skimmer box. Once your Lilly Pilly is established, they require regular but little water.
Drawbacks: Prone to salt and chlorine damage if splashed regularly. Be careful to plant your Lilly Pilly far enough away from your pool as the berries can end up in your pool. They can be susceptible to aphids.
Tips: The Lilly Pilly can come in a variety of shapes and sizes. Check with your local plant nursery for the varieties best suited to your backyard/pool conditions.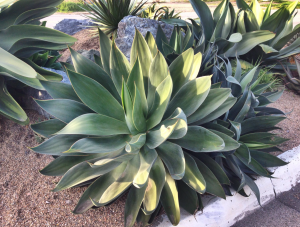 Plant agaves if you are after eye-catching leafy symmetry and drought hardy, low maintenance plants around your pool. 
Benefits: Grows easily in a variety of situations including garden beds and pots. Once established, the Agave can go for weeks and even months without water. They are easy to transplant and can be propagated from cuttings. Save money by asking your neighbours if they have any Agave shoots they can share.
Drawbacks: Agaves prefer full sun/part shade, so if your location is in complete shade, they may not be suitable. For your pool area, make sure you choose varieties without thorns or prickly-edged leaves. Agaves prefer well drained soil (heavy clay or overly wet soil is not suitable).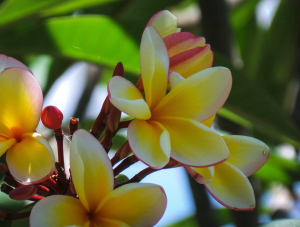 This tropical garden plant is a small tree with attractive, leathery leaves and sweet-smelling, waxy blooms that will burst out from Spring/Summer. For best results (flowers, growth), plant in a well-drained sunny location.
Benefits: Nothing feels more tropical than a tropical frangipani. Can be grown easily in pots or garden beds. Requires regular but little water in the warmer months. Can be propagated from existing plants. The tropical frangipani features a compact and non-invasive root system, making it the perfect choice near your pool.
Drawbacks: Frangipanis can sometimes suffer from fungal diseases. They also shed their foliage meaning large leaves can end up in your pool. 
Tips: Allow space to your pool as it can 'branch out'. Ensure you have a suitable pool cleaner to pick up the leaves.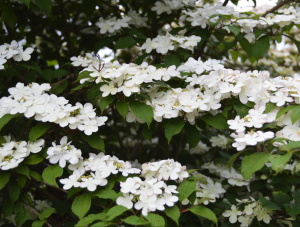 Viburnums come in a variety of shapes, sizes and colours. From colourful berries and foliage, to showy flowers and stunning fragrance, Viburnums have the bases covered.
Benefits: All Viburnum shrubs are hardy and can make the perfect hedge/privacy screen. Spring flowers add a fragrant perfume to your pool area. Can be hedged and will tolerate dry conditions.
Drawbacks: Requires pruning for optimal results. Can attract bees (be careful to plant away from walking areas). 
Tips: Speak to your local plant nursery about which is the best variety for your location.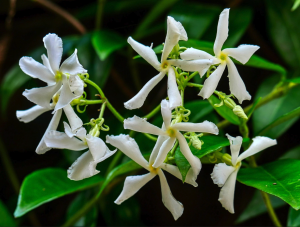 Star jasmine is a vine that produces beautiful white fragrant flowers in the warmer months.
Benefits: The vine makes the perfect screen to block out that ugly fence or wall. It can also be grown as a ground cover. It has stunning, fragrant flowers which bloom enmasse creating a relaxed and calm atmosphere around your pool area. It has non invasive roots and will tolerate hot and dry conditions.
Drawbacks: Drops flowers. Can attract bees (be careful to plant away from walking areas). Like most vines, it can 'take over' if not maintained properly. 
Tips: Install a trellis to encourage the growth where you want it to go. Trim in the cooler months to encourage more flowers in Spring. 
Get Started
Always speak to your local plant nursery to make sure you are planting the best plant for your local conditions. 
A beautiful pool garden will always require some maintenance and leaves and flowers will inevitably end up in your pool. To select the right pool cleaner for your conditions, jump on our handy pool cleaner selector guide.
Next Pool Professor Blog: Common (& Costly) Mistakes New Pool Owners Make