How To Choose The Best Pool Cleaner For Your Pool Type
Being able to enjoy your swimming pool on a sunny afternoon is one of life's great luxuries. Whether you're exercising by swimming a few lengths, fooling around in the water, or just enjoying an ice-cold beer while floating on an inflatable, the pool can always be counted on as a nice addition to your standard routine.
However, regular maintenance is required to keep the pool clean. If left unattended for long periods, it can quickly become home to a frightening range of algae, dirt, leaves and more debris. This can even be a potential health hazard to anyone who enters the pool.
Maintaining your pool's pristine condition and keeping it safe to swim in needn't be a bother though – as long as you invest in the right pool cleaner. When you've chosen the best pool cleaner for your pool type, it becomes completely hands-off. A matter of letting it do its thing while you do yours.
But how do you decide which pool cleaner is the best one for your pool? What are the factors that you need to consider in making this decision? In the following article, we go over everything you need to bear in mind when making the best pool cleaner choice for your swimming pool.
All Factors To Consider When Choosing The Best Pool Cleaner For Your Pool Type
How Big Is Your Pool?
The first thing to take into account is the size of your pool. The larger your pool is, the more muck there can be for a cleaner to deal with. This means that it needs to be able to deal with larger volumes of waste. It may also mean that it will take longer, thus incurring more costs through your energy bill. As a result, when you have a bigger pool you will need to consider getting an efficient cleaner with a more rugged filtration system.
In such instances, getting an energy efficient model such as the Kreepy Krauly Robotic Pool Cleaner – rX Tank may be exactly what you need. This pool cleaner operates with zero running costs when used with a single speed pump. Additionally, the intelligent robot cleaner can effectively clean a pool of any size.
What Shape Is Your Pool?
The next thing to consider is the shape of your pool. This is a factor that a lot of people overlook, but it is actually very important in determining which cleaner is best suited to your needs. Is your pool a regular rectangle or square design, or does it have a more unique shape, such as the popular kidney shaped pools (curved)? The reason this matters is that some models are better for curved pools. And some pool cleaners are best for stairs and sharp angles and corners, etc.
If your swimming pool design falls under the freeform, kidney shaped or curved category, a model such as the Kreepy Krauly VTX-7 with Triple-Clean Vortex Action will make a great choice. It has an Ultra Flex Hose that provides maximum coverage of your pool and is designed to clean while travelling in a unique crisscross pattern that is sure to make even the most unusually shaped pool spick and span in no time. Read a VTX-7 Automatic Pool Cleaner Review to learn more about this excellent pool cleaner choice for curved swimming pools.
And if you have a sharp-angled pool, we'd recommend either our Sprinta Plus Automatic Suction Pool Cleaner or our rX-Tank robotic pool cleaner which offers the hands-off benefits of automatic suction pool cleaners and with the benefits of robotic pool cleaners thanks to its Robotic X-Over™ (crossover) technology.
What Kind Of Material Is Your Pool Made Out Of?
Different swimming pools can be made out of a wide variety of different materials such as concrete, vinyl, tile, pebblecrete, and fibreglass. These materials each have different properties, which affects the performance and results that different swimming pool cleaners deliver. As such, you need to pay close attention when deciding on which cleaner to buy and make sure it's designed to effectively clean the material your pool is made from.
While all of the versatile Kreepy Krauly cleaners are ideally suited to scrub your pool's concrete surfaces, it is best to check which model is most effective for your pool's material by using the handy online pool cleaner selector tool.
How Deep Is Your Pool?
Another factor that is easy to overlook is the depth of your pool. And if you have an in-ground pool or an above-ground swimming pool in WA or anywhere else in Australia, the depth factor is important because particularly deep pools will require a suitable long hose for the cleaner to be able to reach the bottom.
Fortunately, Kreepy Krauly is once more on hand to help with our Ultra Flex Hose. This conveniently long and durable pool hose is long enough to cover the deepest pools. View our Kreepy Krauly Pool Cleaner Spare Parts.
What Type Of Profile Does Your Swimming Pool Have?
Continuing with the relevant characteristics of your swimming pool that should impact how to choose a pool cleaner, it is important to factor in the profile of its floor. What this means is, does your pool have a floor with sharp or rounded angles? Is it square or curved?
As with the pool's shape already discussed, swimming pool profile can vary for different shapes. This matters because certain cleaners are better suited for soft angles while some can handle acute angles better. The last thing you want is a pool cleaner that will get stuck the second it tries to navigate a sharp corner in your pool. You don't need to worry about this with Kreepy Krauly Pool Cleaners, however, should you have a pool with a sharp and angular floor profile, then you would do well to buy yourself the Kreepy Krauly Sprinta Plus.
This ingenious model has been specifically engineered to easily deal with those sharper angles. It has a flexible hose connector and geared steering system that enables it to traverse any step or corner without getting stuck. Alongside the rX-Tank these two are simply the best pool cleaners for rectangle pools or any pools with sharp corners and stairs.
If your pool contains a more gentle slope, any model will make a good choice. That being said, the VTX-7 With Triple-Clean Vortex Action is an ideal option that offers superlative scrubbing action on gently-sloped pools.
What Is The Nature & Extent Of The Debris That Falls Into Your Pool?
Is your swimming pool located near a beach? Or is it surrounded by trees? While having a seaside swimming pool, or one surrounded by a grove of trees, may have its glorious benefits, these factors also affect the type and the amount of debris that find their way into your pool. This matters because some pool cleaners will struggle if there are enormous quantities of leaves and twigs to clean up. Or if there are heavy materials like sand to vacuum up.
If you happen to have a swimming pool in a location that leads to a lot of debris finding its way in, then a heavy-duty cleaner that can handle larger amounts of dirt and waste is the way to go. The Kreepy Krauly rX-Tank is hands down, the best robotic pool cleaner for leaves and sand. It's the best pool cleaner for debris in general. It has a turbo cleaning cycle that can handle the toughest loads of dirt, including sand, which makes it an excellent choice for any shape or sized pool. If your pool is generally in a clear environment then you can opt for a more economical model that is best suited to smaller amounts of dirt, like the Kreepy Krauly VTX-3.
What Kind Of Warranty Is Offered With The Cleaner?
Of course, it isn't just the features and design of your pool that you need to think about when making the best pool cleaner choice. You also need to think about the qualities and benefits of the pool cleaner itself. With this in mind, you are strongly advised to check whether a warranty is offered with the item you're thinking of buying, and if so how long the warranty lasts.
Pool cleaners, as with all mechanical and electronic items, are prone to breaking sometimes – especially if they are used frequently. If you decide to go with one of Kreepy Krauly's models then you are in safe hands. Not only are all Kreepy Kraulys known as the best pool cleaners specifically designed to last, but they also come with either 2+10 year warranties or 1+10 year warranties on each model. This means you will have a 1 or 2-year warranty on the full system as well as a 10-year warranty on the flow drive. Learn more about our generous Kreepy Krauly Warranty.
How Reliable & Durable Is The Cleaner?
Closely related to the previous point, another crucial factor to consider when making the best pool cleaner choice is the extent to which the item will reliably continue to work over a long period as well as how much punishment it can endure. While it may seem a simple point, it is nevertheless highly important that you do some research into your cleaner's level of durability.
When you purchase any Kreepy Krauly model, you get a pool cleaner that's manufactured from high-quality materials, which are UV, salt, chemical and heat resistant. No matter what dirt and debris your pool throws at it, a Kreepy Krauly cleaner will be able to handle it and continue to serve its purpose for years to come. In addition to this, all products undergo rigorous testing to ensure they will only ever require minimal servicing.
Manual Labour Is Another Factor To Consider
Are you looking for a pool cleaner you can just leave in the pool 365 days a year? Who would want to be lugging one in and out all the time? Just FYI, our robotic pool cleaner can be left in the pool everyday. Yes, the rX-Tank is unlike any other robotic pool cleaner out there. Its Robotic X-Over™ (crossover) technology enables it to be a robotic pool cleaner with all the benefits of an automatic suction pool cleaner as well. Learn more about this in our robotic pool cleaner vs suction comparison article that further explains the brilliance behind our robotic, yet fully hands-off (something unheard of with robotic pool cleaners) pool cleaner… the Kreepy Krauly rX-Tank.
As can be seen, there are numerous factors to keep in mind when choosing your best pool cleaner.
Firstly, you need to think about the pool itself. Is it large or small? Standard shaped or uniquely shaped? You need to take into account the material it is made from, the shape of the floor, its depth, and its floor profile.
It's important to consider your surrounding environment.
Will there be large amounts of leaves falling into the pool or is there likely to be a lot of sand tracking into it? Thereafter, you need to think about the cleaners themselves. How long will they last and are you protected by a warranty?
To help you navigate these treacherous waters, we've created a Pool Cleaner Selector.
Using our Pool Cleaner Selector, you'll be able to key in the variables and arrive at the right cleaner for your pool.
The handy Pool Cleaner Selector tool takes all these factors into account, breaks them down into 4 questions, then directs you to the cleaner that is best suited to your specific pool.
4 Simple Questions To Your Best Pool Cleaner Choice
Finding your pool's best pool cleaner can be broken down to these 4 simple questions.
1. What shape is your pool?
You begin by telling us the shape of your pool. Is it rectangular or square? Is it freeform or curved? These might seem like huge differences but every Kreepy Krauly has been designed to maximise effectiveness in a specific situation.
2. What profile is the bottom of your pool?
The next step is describing the profile of the bottom of your pool. Is it square or curved? In other words, does it have a sharp or rounded profile? Again, you need to know the ins and outs of your pool before buying a cleaner.
3. What material is your pool?
Now we need to know what your pool is made of. Is it concrete, fibreglass, pebble tec, vinyl or tile? Knowing your pool material type will allow us to establish which Kreepy Krauly most effectively cleans your surface.
4. What leaf load do you need?
Check out the area around your pool to establish how much work your pool cleaner will need to do. Are there many trees and bushes close to the pool? Are they the kind that shed leaves and debris? Once you've got a clear picture of the foliage situation tell us if you'll need a heavy, medium or medium/light leaf load in your cleaner.
Thankfully, Kreepy Krauly can help answer these questions for you.
Using our Pool Cleaner Selector Tool, you'll be able to key in the variables and arrive at the right cleaner for your pool.
Once you've entered all the variables into our Pool Selector we'll tell you which Kreepy Krauly is the best choice for your pool.
And that's what our Pool Cleaner Selector Tool does exactly to quickly enable you to choose the perfect pool cleaner for you.
Now You Know How To Find The Best Pool Cleaner For Your Type Of Swimming Pool
When records tumbled in the pool at the Rio Olympics, commentators wondered if Michael Phelps, Katie Ledecky, Cate Campbell and co. were being pushed along by a "fast pool".
They believed the Brazilians had manipulated the variables –turbulence, depth, circulation, temperature, wall slipperiness – to create a pool that resulted in a remarkable 23 world and Olympic records.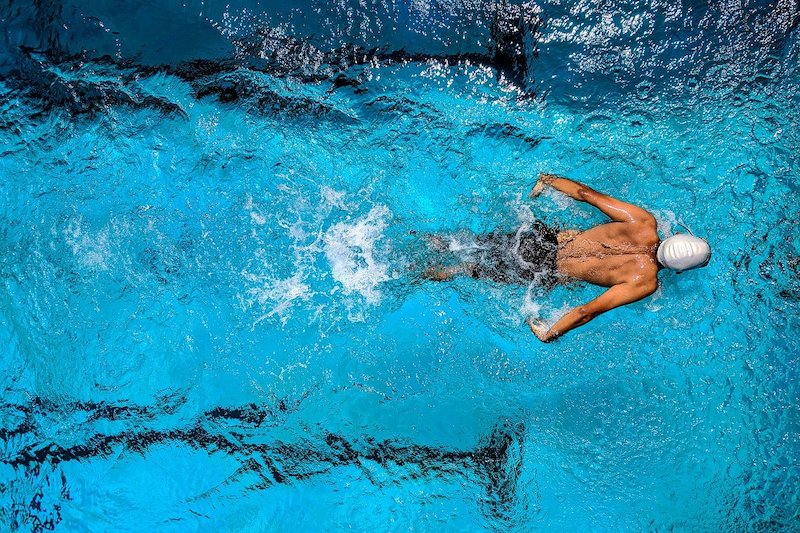 You won't find the immortal Phelps flapping his famous flipper-sized feet in your backyard pool any time soon, but a similar set of factors will affect your choice of pool cleaner.
Let's break these down once more:
The shape of the pool
What the bottom looks like
The material used to build it
The proximity of greenery
If you are lucky enough to own a swimming pool, you should be able to enjoy it with minimal fuss. Now that you know how to choose the best pool cleaner for your type of pool, you can get on with the fun part.
If after using our Pool Cleaner Selector, if you're still unsure, pop into one of the stores selling Kreepy Krauly and talk to an expert.
Or contact us direct right here.
Us here at Kreepy Krauly, or any of our local Kreepy Krauly dealers will be happy to personally recommend you the most appropriate Kreepy Krauly cleaner for your pool. This will help you get on with what you should be doing in and around your pool – swimming, relaxing, entertaining and generally enjoying it for the greatness that clean swimming pools provide.