When are the best times to use a pool blanket?
So you've got your new pool and you're ready to enjoy the hot months. You dip your toe in the water and….almost die of frostbite even though the sun is shining.
You have heard of pool blankets and pool heaters, but just don't know which is best and why.
Well, wrap yourself up nice and cosy, here's the A-Z of pool blanket-ology (yep, we just coined a new word).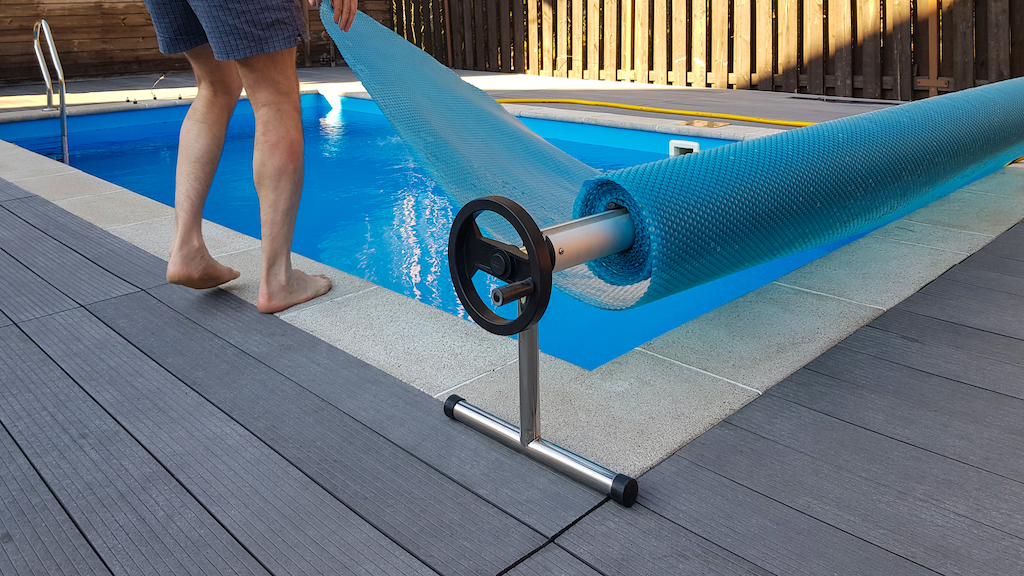 Why use a pool blanket?
Firstly, you get to unlock free heating from the sun, which is always a bonus.
Secondly, you reduce water evaporation, preventing your pool water level falling like a herd of elephants dropped by for a social drink – you might be surprised how much evaporation the sun can create on an uncovered pool over a few hot, sunny days!
With water costs rising, eliminating the number of times you need to top up your pool during Summer just makes good sense (and cents).
Thirdly, if you do have pool heating, a blanket will keep the heat in, saving you from an electric power bill shock.
It's simple math, but a pool blanket can mean less work and more time relaxing.
When should you use a pool blanket?
It's really up to you but here's what we reckon works pretty well.
Cover your pool whenever it is not in use. This means the sun will heat your pool during the day and the blanket will help keep your pool warm at night.
Using a pool blanket with a pool heater will also allow your pool to get to the desired temperature quicker and keep the heat in reducing your heater's daily workload.
You may even be able to turn your pool heater off for periods of time by consistently applying a pool blanket once it's warm.
Your pool can stay this way, with the blanket only removed when the pool is in use.
In short, to maximise your heating, leave your pool rugged up when not in use and you will get the best bang for your buck. Plus, your pool will be swim-ready when you are!
Can I leave a pool blanket on when the pool filter is running?
Yes, they are safe to use with your normal filtration and pool operating system but please be aware that your pool blanket may interfere with drawing leaves and debris to your skimmer box.
Always check the top of your pool surface and remove the pool blanket from time-to-time to enable cleaning by your filtration system. Or simply grab a leaf scoop and give it a quick clean!
If you do leave the pool blanket on while the pool filter is running, you should regularly monitor the situation and assess your chlorinator settings to ensure it is at the acceptable dosage.
The benefit of leaving the blanket on while the pool filter is running means you will not have as much water evaporation from your pool, saving you from topping up your pool as frequently, especially in the warmer months.
As always, please make sure you speak to your pool professional to ensure you are maintaining your pool for optimal use.
Can you use a cleaner while the blanket is on?
Yes, if you own a Kreepy Krauly, we encourage it.
Just review your chlorination settings to ensure you do not overdose the pool and therefore reduce your cleaner's lifespan.
Over-chlorination can also damage your pool surface prematurely if you are not careful.
Our ultra flex hose and system is designed for use with the pool blanket, meaning your pool is always maintained.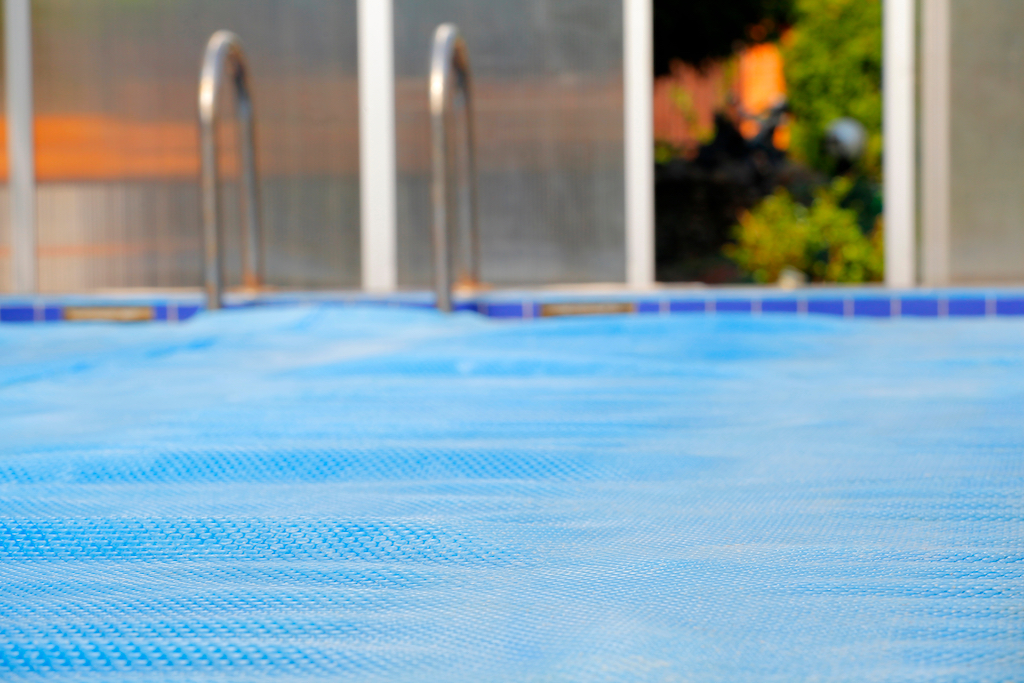 Can I use a pool blanket if it is raining?
It is okay to use your pool blanket when it is raining. Most people use it through winter. They are designed to work in rain or sunshine. Just make sure you keep an eye out on your water levels and backwash or drain, if necessary.
Does a pool blanket trap more chlorine and therefore damage the pool surface?
No, it doesn't. You just need to make sure when using the pool blanket you don't add too much chlorine and neglect to inspect and maintain the levels regularly.
The final word
The rule of thumb is, a pool blanket can be your best friend and used all year round but always check with your pool professional to ensure you are maintaining your pool to optimal health and safety standards.